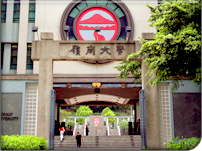 Lingnan University is a young university in the territory, yet with the longest established tradition. Its history dates back to 1888 when its forerunner, the prestigious Lingnan University in Guangzhou (Canton), was founded. The University seeks to provide its students with quality education distinguished by the best liberal arts tradition from both the East and the West.
Apart from honours bachelor's degree programmes, the University offers Master of Philosophy (MPhil) and Doctor of Philosophy (PhD) programmes in Chinese, Cultural Studies, English, History, Philosophy, Translation, Visual Studies, Business, and Social Sciences. Both MPhil and PhD programmes lead to in-depth study in specific research areas. Full-time MPhil/PhD students will normally be awarded studentships.
The University also offers a number of taught postgraduate programmes, mostly leading to master's degrees, in Accountancy, Business Administration, Chinese, Cultural Studies, English Studies, International Banking and Finance, Liberal Studies, and Practical Philosophy.
For more information about the postgraduate programs, please follow this link.